Welcome to Front Row Music

Front Row Music offer the most fun and engaging music lessons around for primary schools. Specialising in guitar, ukulele and keyboard we LOVE music and are on a mission to teach a new generation how to play by learning their favourite music!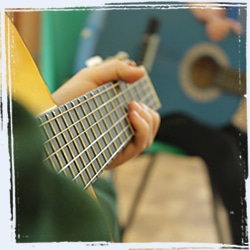 Book us for a free interactive assembly today and watch the children in your school become excited about practicing and playing an instrument. Our lessons cover all aspects of music theory and performance, but more importantly, they are super fun!
Don't have instruments in your school? That's okay, we provide instruments for the children to use in lessons and also sell them at great prices.
Watch this promo video to find out more about our musical revolution!
Giving Back
Did you know that Front Row Music sponsor children to go through school in crisis areas overseas? Giving back is part of our company ethos and we love being able to make a difference through music. Check out this video of our trip to Haiti, to visit the children we sponsor.
Don't just take our word for it…
"Front Row Music are fantastic! They are approachable, helpful, and friendly and nothing
is too much trouble. We love the contemporary songs that they have introduced to
the lessons and since they have taken over guitar lessons at the school we have
seen a dramatic increase in numbers not to mention a very
enthusiastic response from the children."
Head Teacher, Norbury Hall Primary School, Hazel Grove
"Front Row Music take care of everything, from organising the Guitar and Ukulele
registers to collecting all payments, which makes things really easy for our school.
We're thoroughly satisfied with their service and have already recommended
them to our neighbouring schools."
Head Teacher, Bradshaw Hall Primary, Cheadle Hulme
"We think you're doing a wonderful job in teaching our daughter the Guitar.
She is an introverted child, but, thanks to Front Row Music, her confidence is growing.
She's brings the guitar out at all family parties! She loves her teacher and rave's
about how cool he is! She comes bounding out of school to show me her latest
certificate. We're really pleased with her progress and are extremely proud of her."

Parent, Dean Oaks Primary School, Wilmslow
"Front Row Music is a very well-run company; all the staff are helpful, friendly and
approachable. The lessons have proved very popular with the children and
we have far more pupils than ever before choosing to learn the guitar.
The teacher has a great rapport with the children and makes the lessons fun.
We would have no hesitation in recommending Front Row Music to any schools."
Headteacher, Lindow CE Primary, Wilmslow
"My tutor is patient, dedicated and inspirational, exactly what I was looking for in a
guitar teacher. I especially like the fact that his knowledge is not only limited to
one type of music; he was more than happy to help me learn country songs,
spanish guitar as well as rock n roll, folk and indie. I wouldn't hesitate to
recommend Front Row Music to anyone and everyone – in fact I already have!"

Private Student, Manchester Central
"We are very happy that a group of our children are now learning to play the guitar
and are enthusiastic about their lessons. Front Row Music tutors have a relaxed and calm
manner with the children and teach them well in groups. The teachers are all very
skilled musicians and are passing on their knowledge and sharing their skills with
the children but also holding their interest."
Deputy Head, St James' Primary School, Ashton
"Before starting my lessons I had absolutely no musical ability and I was nervous
about learning. At my first lesson I was put at ease and I went away able to play
a few chords. After my second lesson I could play Wonderwall all the way through!
With every lesson I feel like I'm progressing and I really enjoy being able to play
different songs on my own now."
Private Student, East Manchester
"Front Row Music are fantastic! They are approachable, helpful, and friendly and nothing
is too much trouble. We love the contemporary songs that they have introduced to
the lessons and since they have taken over guitar lessons at the school we have
seen a dramatic increase in numbers not to mention a very enthusiastic
response from the children"
Head Teacher, Norbury Hall Primary School, Hazel Grove
"The response to Keyboard and Guitar lessons has been amazing. Front Row Music have
gone out of their way to provide an excellent service for us; they even arranged a
rock show for the end of arts week that went down a storm!"
Music Coordinator, Dean Oaks Primary, Wilmslow
"Front Row Music take care of everything, from organising the Guitar and Ukulele registers
to collecting all payments, which makes things really easy for our school.
We're thoroughly satisfied with their service and have already recommended
them to our neighbouring schools."
Head Teacher, Bradshaw Hall Primary, Cheadle Hulme
"The summer school was fantastic. The children got the chance to write and record
their very own song and even have a CD to show for it!"
Year 4 Teacher, Broadbent Fold Primary, Dukinfield
"The guitar lessons are fantastic! The children can't wait for their lunchtime club as
they enjoy guitars so much. The teacher has a lovely manner with the children
and is very kind and friendly."
Headteacher, Bury & Whitefield Jewish Primary School