Specialists in music tuition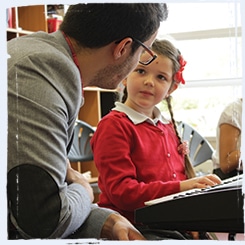 Our team of friendly and experienced tutors provide an environment where you will progress at your own pace.
We teach one-to-one lessons for all abilities on guitar, bass, ukulele, piano, drums, vocals, trumpet and violin.
To make things easy we travel to you so that you can learn in the comfort of your own home! We can even lend equipment if you don't have your own.

Teaching you the songs you want to learn
We plan our lessons around you. If you want to learn a particular song then we will show you how in easy bite-size chunks, at your own pace. If you want to learn music theory or just get rid of some bad habits, then we will show you how. You learn the songs you want to play!
"My tutor is patient, dedicated and inspirational – exactly what I was
looking for in a guitar teacher. I especially like the fact that his knowledge is not only
limited to one type of music; he was more than happy to help me learn country songs,
spanish guitar as well as rock n roll, folk and indie. I wouldn't hesitate to recommend
Front Row Music to anyone and everyone – in fact I already have!"
Private Student, Manchester Central
Corporate and Group Lessons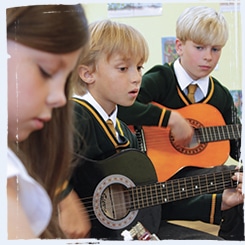 We also offer group tuition and workshop sessions for organisations and work places. For example, if you would like to offer a percussion workshop at a staff training day, or book a choir workshop for your local community, we would love to hear from you.
Gift Vouchers
Offering great value music tuition for a wide range of instruments, we provide lessons in blocks of half an hour and an hour. Why wait? Become the player you want to be by starting today! Click Here to learn more!