With more than a decade of successful experience in teaching music in primary schools and to individuals of all ages, Front Row Music is an award winning ethical music tuition franchise designed to make the process of learning any instrument a whole heap of fun.
With our unique company software and specialised syllabus we make sure that you are immediately equipped to get off to a flying start with your own business.
What we look for in a Front Row Music franchisee
We are looking for inspirational individuals who are passionate about music and serious about making it as fun as possible for the next generation. Being able to play an instrument is highly recommended, preferably guitar or piano. Applicants must be committed to work full time hours to make the most of this business opportunity.
At Front Row Music we care about giving back and contributing towards society through music. We are looking for franchisees who are like minded and take an interest in the social side of music.
Check out this video of our trip to Haiti to visit some of our sponsored children.
What you receive as a Front Row Music franchisee
You will receive all of the training and support needed to build a successful business from the ground up. Have the head start of years of experience, knowledge and resources from day one.
For your franchise fee you will receive:
• Protected territory
• Front Row Music's specialised software to manage all aspects of your business
• Full on-site and off-site training on all aspects of running the franchise
• A start up instrument package including everything you will need to operate
• 40 hours one to one training from our Chief Exec
• A computer loaded with all software, syllabus and documents plus printer
• All advertising material needed to win business
• All school data for your territory
• Special trade rates on all instruments
• Ongoing operational support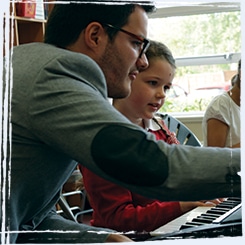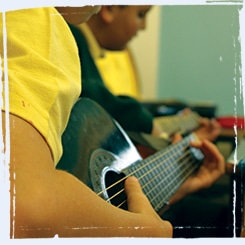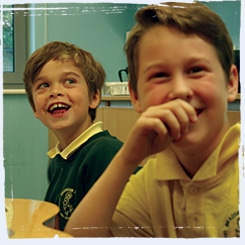 To find out more about starting your own
Front Row Music franchise and to receive a full franchise pack please fill in the form below
Once you have completed the form the following steps will take place:
Step 1
You will receive a Front Row Music franchisee application form to complete and return along with a link to an online questionnaire that helps us to assess whether you are the correct fit.
Step 2
We will meet to discuss the franchise opportunity in more depth and showcase our company software and syllabus, you will also receive an in depth financial breakdown of our franchise model.
Step 3
Assuming that steps 1 and 2 are successful, you will spend a day at our head office doing some practical tasks with our office team and tutors as a final step to the recruitment process.
Step 4
We will set a start date for the franchise launch and the franchise purchase will take place. You will then undergo full training on how to run a Front Row Music franchise.