Welcome to another post in our Spotlight series. This is where we shine a light on a member of our Front Row family and see what they've been getting up to inside and outside of teaching. All our tutors are working musicians and we're so lucky that they're able to swap the stage for the classroom.  Our students get Front Row seats to be inspired by their skills and knowledge. This week we talk to the owner of our Lincoln & East Yorkshire franchise, Andy Hutton.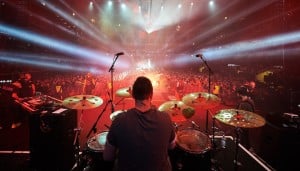 Who is Andy?
Andy has run our Front Row franchise in Lincoln & East Yorkshire since 2015. Primarily a drummer, his skills have seen him tour the world playing in front of crowds of thousands. He was the first person to open a franchise outside the North West and we're so happy to have him as part of the Front Row Family.
Over the last 12 months he's been looking to further establish the service amongst schools within Lincolnshire and East Yorkshire. We have seen some great growth over that time. He has been ensuring that with that growth, our high standards are maintained and all those children learning with us are flourishing.
Outside of the business he continues to gig and spend time with his family as much as possible.
Q&A
How have you found running a Front Row Franchise in Lincoln & East Yorkshire?
Running the Franchise in Lincolnshire and East Yorkshire has been both rewarding and challenging. Both areas are very rural, so focus has been more on the cities of Lincoln and surrounding villages and also Hull within East Yorkshire. It's been great to see new schools engage with our unique approach to teaching and seeing young people develop a passion for learning an instrument.
What was it that made you want to pursue music first as a hobby and then as a career?
Music has always been a passion. I reached a point where I realised a straight 9-5 wasn't for me and thought about working for myself. I always wanted my work to align with my passions, so when I took the leap into self-employment music was top of the agenda.
As a musician its difficult to find avenues to make a living from playing alone so to have the opportunity to teach and also to run a business where others can teach for me was a no brainer. A win, win for sure.
What's been the highlight of your career so far, and what's the best thing about sharing your passion for music to Front Row students?
Highlights for me have been numerous. From gigging in football stadiums in Holland, to a 4 day trip to California, to playing a festival and everything in between.
Being able to play professionally, and run a franchise that is encouraging future generations to follow their own passions, is such a buzz. It's a real motivation to know that our students can change not just the course of their own lives, but also that of their family and fans by taking a passion for music. Using that platform for something positive really keeps me wanting to keep doing what I do!
Have you had any success stories with your Front Row students?
We've seen numerous breakthroughs and success stories. The best successes are seeing a child's confidence grow and hearing from parents and teachers how this has a positive impact on things beyond their music lessons. The benefits of our lessons aren't restrained to just learning an instrument.
They find their voice and start to use it in the other areas of their life that we hope goes beyond the class room, their primary school years and will continue throughout their life.
What's the best tip you can give to anyone starting to learn an instrument?
Persist and stick with it! When you feel frustrated and want to give up because you can't get that new chord, finger shape, drum rudiment or piano part – just stick with it. To achieve the best and enjoy life to the fullest we sometimes have to endure the frustration and hard times. Sticking with things is key!
---
Thanks Andy!
If you're interested in becoming a franchise owner of your own then we'd love to hear from you!
If you're interested in lessons for your child or your school then head to our contact page and get in touch.