Welcome to another post in our Spotlight series. This is where we shine a light on a member of our Front Row family and see what they've been getting up to inside and outside of teaching. All our tutors are working musicians and we're so lucky that they're able to swap the stage for the classroom.  Our students get Front Row seats to be inspired by their skills and knowledge. This week we're hearing from Vickus Horne – our first international franchisee!
Vickus has been running Front Row Music Cape Town for the last year and a half alongside rocking out in his own band! You can hear all about his story and what inspires him below!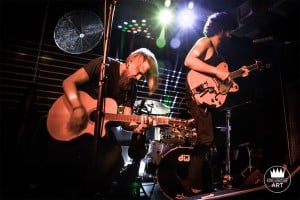 Tell us a bit about yourself – who is Vickus Horne?
To define oneself is not an easy task! Who am I? Well my name is Vickus Horne, I think that is a good start!
I'm married to the lovely Alexis and I work as an actor and musician. I also live in one of most beautiful cities in the world – Cape Town. I'm a dreamer and I believe in fighting the good fight with the view to changing the world for the better.

How have you found running a Front Row Music franchise?
We had our first meeting in February 2018 discussing the possibility of starting the first international franchise in Cape Town and now, over year later, here we are! It's felt a bit like swimming in the unknown and stepping out of the boat and running on water. It's been amazing, crazy, awesome, great, hectic – all of this and more!

What was it that made you want to pursue music first as a hobby and then as a career?
I first picked up the guitar at the age of 19 – I'm very much a late bloomer and it shows that it's never too late to start! In my first year of acting I did a cabaret and I couldn't really play guitar but the performance was real and raw. The crowd loved it so much and my one lecturers was in tears! It was at this point that I knew I wanted to do music. Music is my my veins, I just realised it a bit later in life.

What's been the highlight of your career so far, and what are you dreaming about for the future?
I play for a band called Cherry Vynil – we play in and around Cape Town and the greater South Africa region. In 2016, we had the privilege of playing the main stage at Splashy Fen, which is South Africa's longest running music festival and one of the top 100 festivals in the world. The cherry on the top of this experience was sharing the stage with the international legend Xavier Rudd from Australia!
As far as dreaming about the future, I want to make a bigger impact on this beautiful, blue planet we are living on. Music is a beautiful thing and I want to make more of it in order to share the message of love and hope as far as we can.

Who would you say has been your biggest influence in your musical journey?
I grew up listening to bands like Counting Crows, REM, Hootie & the Blowfish, and Coldplay to name a few. The biggest influences for me are Dave Matthews Band, The Police, and Sting; I love the musicality and storytelling of all of these artists.
In South Africa I look up to guys like Just Jinjer, Freshly Ground, Fokofpolisiekar, and Die Heuwels Fantasties.

What inspires you?
Inspiration for me can happen at any time of the day or night and in any place. I could be sitting on the ground in the middle of the Namibian desert looking out into the nothingness or I could be on top of Table Mountain looking down on the city of Cape Town.
I get inspired by people and their stories. The two greatest types of people for me to be around are young kids because they are innocent and real, and elderly people because they carry wisdom from having lived life and don't need to pretend.
Raw, real honesty also inspires me.
 
Have you had any success stories with your Front Row students?
I've seen many kids light up like little light bulbs with amazement on their faces when they get that first chord right or play a full song.
There's currently a school we are teaching at that is in a very underprivileged area. The kids don't really get opportunities to learn music or experience other extracurricular activities. We've offered discounted lessons to their school and if you ask the tutor that is teaching there, he will tell you that it's his favourite school to teach in and that being there has changed his life and opened his eyes to so many things.
We know that the stories will continue to grow and the lives of these kids will be forever changed. Music IS the success story.

What would be your number one piece of advice for anyone wanting to learn an instrument?
Music comes from within; it's a heart thing and not a head thing. We are all born with music in us. Go out and make beautiful music!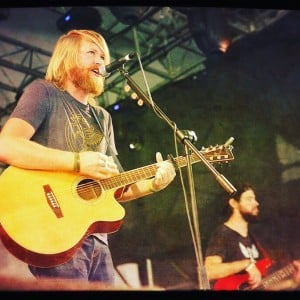 <