Welcome to our Spotlight series, where we shine a light on a member of our Front Row family and see what they've been getting up to outside of teaching. All our tutors are working musicians and we're so lucky that they're able to swap the stage for the classroom.  Our students get Front Row seats to be inspired by their skills and knowledge. This week we talk to the owner of our Essex franchise, Aaron Forbes-John.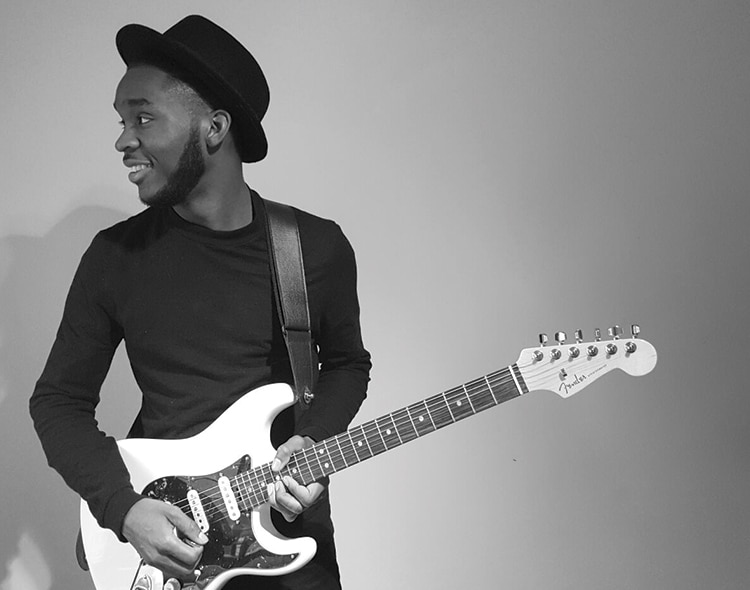 Who is Aaron?
Aaron has run our Front Row Essex franchise since 2016.
A master guitarist, he's had a fantastically busy 12 months. In Feb 2017 he started working for the hit DJ and producer Jonas Blue as part of his live band and went on to tour briefly through Europe and also in LA and Hong Kong.
After that he was lucky enough to play the guitar for Liam Payne from One Direction in Sweden. You can imagine how excited our students were when they found out!
If you look closely you'll be able to spot him playing in this video.
Not satisfied with playing with one of the biggest pop stars on the planet, there's been sessions with some urban pop artists like Mr Eazi and Stefflon Don, and an American artist named Madison Beer at a fashion show party in Milan for Vogue.
We're so happy to have Aaron as part of our Front Row Family and he's a perfect example of how we want to operate as a company. Someone who's actively living the dream as a musician but is still able to come to schools, do assemblies and organise lessons to inspire the next generation.
We don't just provide music teachers, we provide role models.
Q&A
How have you found running a Front Row Franchise in Essex?
It's been challenging at some stages, but mostly very rewarding. Running the franchise whilst being on tour or doing a session in London has been easy, as long as I've got my phone and laptop on me I can always stay connected with parents, schools and our tutors via our amazing app.
I've also found I've grown a lot as a person. I've found a real joy in seeing tutors grow into people passionate and excited about teaching.
 What was it that made you want to pursue music first as a hobby and then as a career?
Growing up in a family that attended church regularly I have always been around music, so I guess it was only a matter of time before my dad bought me my first guitar, which funny enough I hated.
I only had a boring VHS (remember those) to practice to and I didn't have anyone teaching me the kind of songs I enjoyed listening to. I was into all sorts of music from RnB, soul, jazz, gospel and rock.
Luckily for me I met a really cool guitar player when I was about 14 years old. He was a full time musician working in the pop industry, so he gave me something to aspire to, just like the tutors we provide in schools.
The growth I made in those lessons birthed my dream of having a career in music.
What's been the highlight of your career so far, and what are you dreaming about for the future?
The highlight of my career so far has got to be playing live on Jools Holland.
I'm hoping that the future holds a nice long tour of the USA, I'd love to experience that.
What's the best thing about sharing your passion for music to Front Row students?
Seeing kids come alive with an instrument in their hands.
A shy kid going from timid to world beater reminds me of why I love music, and why they will too.
Have you had any success stories with your Front Row students?
After our first school year we received some feedback from a very grateful parent explaining that before picking up an instrument her daughters were very shy and anxious. They would never have performed to an audience, but after learning with us they have grown in confidence and she was so proud to see them perform in front of people. Our lessons can achieve so much more than learning chords!
What's the best tip you can give to anyone starting to learn an instrument?
Never ever give up. The start is always tricky and presents hurdles, but keep practising and stay positive and you'll be rocking in no time.
---
Thanks Aaron!
If you're interested in becoming a franchise owner of your own then we'd love to hear from you!
If you're interested in lessons for your child or your school then head to our contact page and get in touch!