Welcome to our Spotlight series, where we shine a light on a member of our Front Row family. All of our tutors and franchise owners are working musicians and we're so lucky that they're able to swap the stage for the classroom; our students get front row seats to be inspired by their skills and knowledge.
This week we're talking to the owner of our East London franchise, the wonderful Howard Rose. Howard started his Front Row journey working as a tutor at our Manchester branch before leaving to wow the judges on The Voice in 2015. Alongside building up a successful career as a musician he re-joined the team and launched Front Row Music East London in September 2018. 
Check out what Howard has to say below and be inspired by his story and words of wisdom!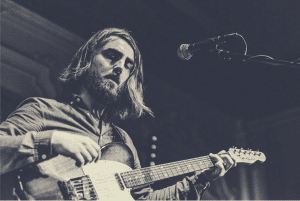 Tell us a bit about yourself – who is Howard Rose?
I'm a singer/songwriter that loves recording, production and performance. I started playing the guitar when I was about 9 or 10 and have never looked back! The amazing thing about music is that it gives you the ability to move forward, be better than you were yesterday, and continue to grow as a person. I use the guitar as my main songwriting instrument, although I also love to write on the piano.
How have you found running a Front Row Music franchise?
Running a Front Row Music franchise has been brilliant so far! It's early days yet (as I only started in September), but I absolutely love it. The support has been brilliant from the Manchester team and I genuinely feel so lucky to be a part of something so special. I think the syllabus we have is inspiring and exciting for the students and creates the perfect learning arc, from absolute beginner through to performing super stars!
What was it that made you want to pursue music first as a hobby and then as a career?
When I was younger I wanted to play the saxophone. My grandma had an old tape player at her house and my siblings and I would just continuously play different tapes! It was usually big band swing, Glenn Miller in particular, but when we started buying our own tapes we'd listen to them together too! My Grandad on the other side of the family played the organ and would always write the grandkids songs, which I think was instrumental in me becoming a song writer!
I decided that I wanted to pursue music as a career when I started to perform in front of people at around age 9 (in Oliver at our local theatre)!
What's been the highlight of your career so far, and what are you dreaming about for the future?
It's hard to pin point one thing that I'd call a highlight. I've had so many incredible and humbling moments: through music I met my wife, through music I've made my best friends, through music I've performed on national T.V, been on national and international radio. All I can hope for the future is that I'm better this year than I was last year. Another musical trip to the United States would be nice too!
Who would you say has been your biggest influence in your musical journey?
Probably my parents for their support, it can be hard to pursue a career in music but it can also be incredibly rewarding! I'm lucky in the way in which my parents have always been there to listen and to offer guidance throughout my life choices.
Musically influential?!?! Loads of artists! From the Beatles, The Rolling Stones, Leon Russell, Led Zeppelin, Harry Nilsson, Carole King, James Brown, Sam & Dave, Etta James, through to Father John Misty, White Denim, Sia, Labrinth, Lady Gaga, Bob Marley, Frank Ocean. I could just go on and on!
What inspires you?
Discovering something new for the first time – I think there's a lot of that with music, whether you're creating it or listening to it.
I have to say as well the excitement you see when a student learns something or hears something for the first time and they can't help but let the music affect them! That's incredible and it's a feeling that can be repeated through new discovery all the time. Music can be massively rewarding to not only yourself but to the people around you, so share your musical journey with others!
Have you had any success stories with your Front Row students?
I've only been working with Front Row in London for around a year, but there have been some real stand out children and performances! One of our students is setting up his own YouTube channel – he's nine and is a fantastic guitarist!
What would be your number one piece of advice for anyone wanting to learn an instrument?
Even if something feels absolutely impossible you must keep trying! Think of ways around the hurdles you can't get over and tackle them on your next lap.